The Reform Party leadership is appalled by the images coming out of Ukraine. Russian forces have committed atrocities on a scale not seen in Europe since the end of the Stalin Regime. Vladimir Putin, his administrators, generals, and soldiers must be held accountable for their actions in Bucha where civilians were restrained and executed at point-blank range. Here is the video evidence of this incident:
Ukraine and Russia negotiated corridors for civilians to escape the fighting and find safe harbor in nearby countries; multiple times civilians were attacked while fleeing. Here is an image of this event.

A train station on an evacuation corridor was bombed, over fifty people were killed. This is the aftermath:
This is a mass grave like those dug during Stalin's regime for dissidents: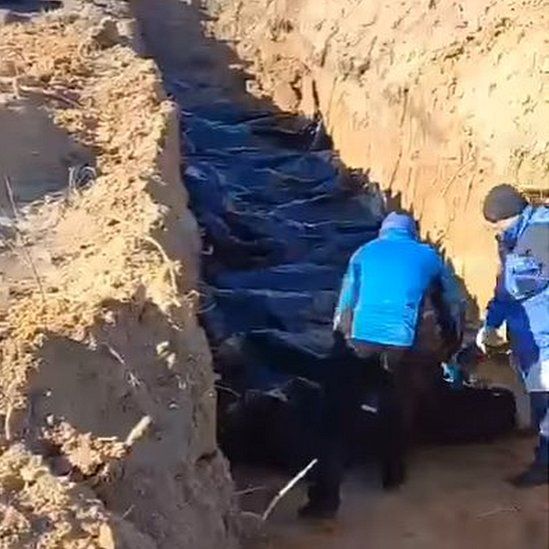 These events are only a thin surface of Russia's crimes against humanity and must be documented as fully as possible, and the perpetrators identified.
Russia should give reparations to the country of Ukraine and to the families of those murdered. Ukraine however can never be made whole. Vladimir Putin and his henchmen must be held accountable for their crimes and cannot go unchecked like Lenin and Stalin. Vladimir Putin must be held accountable. The bureaucrats in Moscow must be held accountable. The generals that ordered troops to commit atrocities must be held accountable. The soldiers that carried out these atrocities must be held accountable.

The Reform Party of the United States condemns these atrocities. These war crimes cannot stand in the shadows of World War 2.
Signed,
Reform Party Executive Committee
Nicholas Hensley, Chairman
Leigh Pollet, Vicechair of Operations
Shawn Storm, Secretary
David Collison, Treasurer
Richard Walker, Regional Representative
Alistair Watson, Regional Representative
Jenniffer Desatoff, Regional Representative
Jon Winter, Regional Representative
Mike Nelson, Regional Representative
Reform Party Communications Committee
Dale Lehner, Chairman
Reform Party Membership Committee
Daniel O'Brian, Chairman
Reform Party Finance Committee
Daniel Dubrule, Chairman
Reform Party Platform Committee
Richard Kasa, Chairman
Reform Party Credentials and Records Committee
Emily Price, Chairwoman
Reform Party Rules Committee
Wesley Smith, Chairman
Reform Party Convention Committee
Timothy J. Welch, Chairman (acting)