By a landslide, what American's fear most is corrupt government officials. We have the Two-Party System to thank for making Americans feel insecure about their government and its officials. If it weren't for the backbiting partisanship in both political parties, you would likely be more content with your government.
There are only adults in this room so let's be truthful with each other. Corruption exists. It is ongoing and egregious. There are those willing to be corrupted, those willing to corrupt, and those who didn't see their corruption coming. This chart shows you what rational thinking adults fear. Government corruption is at the top of the list thanks to the Two-Party political system.
Have you noticed that politicians don't talk about corruption in politics? Politicians -and their sycophants-talk about the corruption in each other's political party but they never talk about how Congress and the election process enables political corruption in America.
Pay for play. Lobbyists craft legislation that politicians/legislators don't read because they are too busy soliciting campaign funds in phone banks. This is a corruption of the legislator and the legislative process.
Illegal use of campaign funds. It's hard for a corrupt official to keep his/her hands off the millions of dollars collected in campaign funds. Why don't politicians talk about ending wire fraud and illegal use of campaign funds?
And what about insider stock trading by Congressmen and their staff? Sure, the topic comes up once in a while but there is little effort to investigate and prosecute this white-collar crime.
Maybe you already knew -or at least suspected- the District of Columbia is the most corrupt municipality in the US as measured by corruption convictions. This is what a study by the University of Chicago in Illinois found when checking public corruption convictions.
And Illinois placed third in that study.
The District of Columbia is the court system used by the Attorney General of the United States and his staff to prosecute corruption at the federal level. From racketeering to wire fraud, from bribery to conspiracy, Washington DC is where the money and power resides. In a Willie-Horton way, this is where the money is, so this is where crimes are committed, tried, and convicted.
The day-to-day transactions of your government are carried out by good, decent, working Americans who know for a fact that many people and organizations try to corrupt federal officials. They also know that some of those federal officials truly are corrupt. Protected by the Whistleblower Protection Program, employees of the federal government use this protection to forestall retaliation when they report a wrongdoing by a corrupt official or government process.
Corruption is a cost to all Americans. First, there is the cost of a theft when something is taken. When caught, there is the cost of a trial and a conviction. Then there is the cost of incarceration. All these costs must be paid through your taxes. The hidden Corruption Tax is insidious.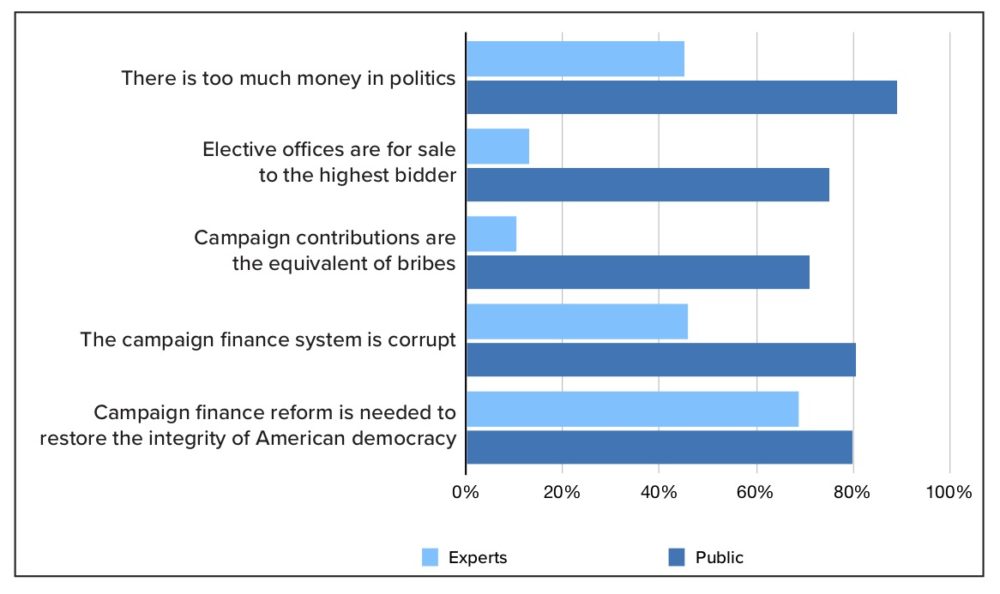 But let's bring the subject back to where we started. What does the average American worker fear about its government officials? From: (Campaign Finance and American Democracy: What the Public Really Thinks and Why it Matters (University of Chicago Press, 2020).
This chart represents the difference between what experts think of these statements and what the public thinks about them. There are three significant take-aways here.
First, the experts see little evidence of quid pro quo that offices are for sale (money) and little evidence of transactional bribes (money). Quid pro quo is not the largest problem.
Second, experts see evidence that the campaign finance system is corrupt and so does the public.
Third, both experts and the public agree that campaign finance reform is essential to restore integrity in American Democracy.
The Two-Party System will never tackle the problem of campaign finance reform to restore integrity. They are too busy blaming each other. They've had decades to tackle this problem and have done as little as possible to change the process. Instead, both parties try to keep third parties out of the political process. They do this to a) eliminate competition for campaign funds and b) to ensure they retain control over the campaign finance process.
Reform. That's the word and that's the need. This is the Reform Party. Choose the Reform Party if correcting campaign finance reform is important to you. If you are able, click on the link at the top of the page to donate to the Reform Party.